At Bradish Associates, we value community involvement. We look for opportunities to help people and organizations to bring people together and make the community a better place.
Fun was had by all at the 4th of July parade!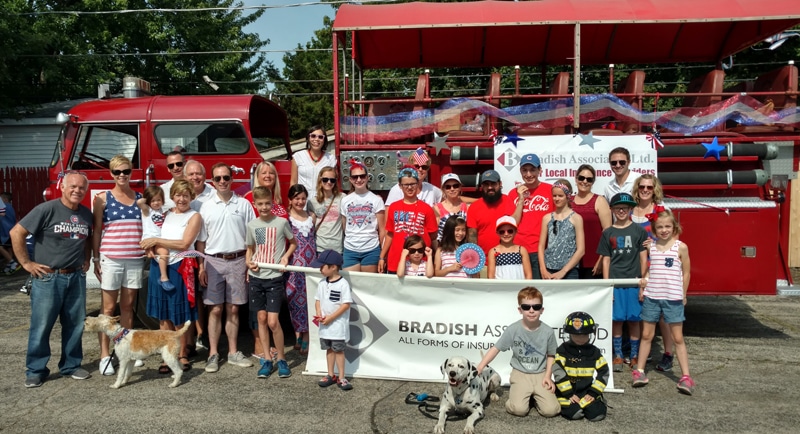 July 4th was a fantastic day, as friends from the Bradish community came out for a ride in a vintage fire truck in the Arlington Heights parade. Thanks to all who helped us greet Arlington Heights and celebrate this great holiday.
Read up on what else is going on in the Arlington Heights community.
Park the car in the Bradish parking lot (for free) and join these fun events:
Movie in the Park – Disney's Moana
Friday, August 11 / 6:30 – 11:00 pm
Recreation Park
500 E. Miner St., Arlington Heights, IL 60004
Bring the family and watch the hit Disney movie, Moana.
Learn all the details: www.ahpd.org/events
Night Golf
Friday, August 18 / 8:30 – 11:00 pm
Nickol Knoll Golf Club
3800 N. Kennicott Dr., Arlington Heights, IL 60004
Try golf from a totally different perspective!
Learn all the details: www.ahpd.org/events/night-golf-august
History Under the Stars
Saturday, August 19 – Thursday, August 20 / 6:30 pm – 8:30 am
Arlington Heights Historical Museum Grounds
110 W. Freemont St., Arlington Heights, IL 60004
Register for this awesome family educational campout on the Museum's grounds!
Learn all the details and register: www.ahpd.org/events/history-under-the-stars
Nine and Wine
Friday, September 1 / 5:00 – 10:00 pm
Arlington Lakes Golf Club
1211 S. New Wilke Rd., Arlington Heights, IL 60005
Register for this event, which includes, appetizers, wine tasting, nine holes of golf, prizes, and more.
Learn all the details: www.ahpd.org/events/nine-and-wine1