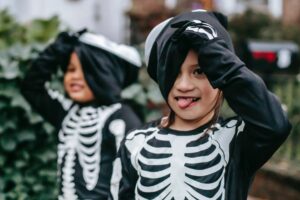 Article updated September 21, 2022.
October is National Pedestrian Safety Month. Perfect timing for a month that ends in drastically reduced daylight hours and Halloween night trick-or-treating. Just as children get excited to roam the neighborhood on the annual quest for the best treats, walking becomes significantly more dangerous. That's why, as parents sweat the details to pull off amazing costumes for their kids, it's important to remember safety. Not just costume safety and candy safety — but pedestrian safety. Experts offer simple suggestions for both walkers and drivers on how to keep kids safe while walking from block to block, trick-or-treating.
The monstrous statistics about pedestrian safety
The National Highway Traffic Safety Administration established National Pedestrian Safety Month in 2020. One purpose of this annual observance is to bring attention to the alarming number of pedestrian deaths on roadways across the country. In 2020 (the most recent data available), more than 6,500 pedestrians were killed, and 55,000 injured, in traffic crashes, according to NHTSA. A total of 26% of pedestrian deaths happened between 6:00 and 9:00 pm.
Halloween evening is one of the most dangerous times for pedestrians, especially children. But trick-or-treaters aren't the only ones who need to watch out. Drivers and walkers bear equal responsibility for pedestrian safety, and that is true all year long. Safe Kids Worldwide and other organizations offer practical advice on how to make Halloween safer for all who are out and about in the community.
Walkers and drivers share responsibility for safety
Will your children be out walking the neighborhood? Teach your kids the importance of following these safety practices for pedestrians. (Visit these Safe Kids Worldwide or NHTSA websites for more.)
Make sure an adult accompanies children under 12 years of age. Young kids can be impulsive (who isn't excited on Halloween?) and have been known to dart out into the street or otherwise act unpredictably.
Stay on the sidewalk, follow traffic signals, and use crosswalks, where available.
Make eye contact with drivers before you cross the street in front of them.
Stay off cellphones while walking.
Will you be out driving around? Follow these safety tips. (See the sources linked above, to learn more.)
Be vigilant — always be on the lookout for pedestrians — especially children, especially after dark. (See point number 1, above!)
Follow the speed limit and slow down when approaching, entering, and exiting intersections, alleys, and parking lots.
Never drive under the influence of alcohol or other drugs.
Stay off cellphones when driving.
This Halloween, make sure you and your children take every precaution to ensure a safe and fun time for everyone. All year long, it's up to all of us — motorists, parents, and pedestrians of all ages — to do our part to stay alert and follow simple safety practices as we navigate our streets and roadways. Let's work together to drastically reduce pedestrian traffic deaths. Have fun trick-or-treating!
by Kris A. Mainellis