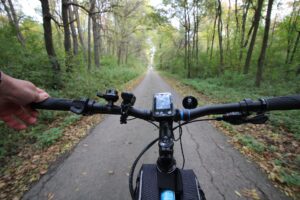 Electric bicycles remain a popular mode of transportation. However, as a much more expensive and faster mode of transport than a traditional bike, they also have higher risks. Whether you are using your e-bike for off-road exercise on the trails or for zipping around town to run errands or commute to work, it's important to find the right insurance coverage. But what kind of coverage do you need and what is actually available? Keep reading to learn about the various options currently out there.
What type of e-bike do you have (or want to get)?
Obviously, e-bikes move at a much faster speed than foot-powered bikes. That means the risks of collisions, injury and property damage are higher than with a traditional bike. (Learn more about e-bikes and how to ride safely.) The class of e-bike you have may help determine your coverage needs — and availability. There are three classes of e-bike.
Class 1 e-bikes have motors that kick in only when riders pedal. These pedal-assist bikes reach a top speed of 20 mph.
Class 2 e-bikes offer the rider the option to use either pedal-assist or throttle-driven power and, like Class 1 bikes, reach a top speed of 20 mph. The presence of the throttle means pedaling is not required.
Class 3 e-bikes are pedal-assist only, like the Class 1 bikes, but have a top speed of 28 mph.
Protecting yourself, others, and your investment
Finding the right insurance coverage for your e-bike can be a challenge. E-bikes can be expensive — up to $8,000 and higher, for top-of-the-line models. Will insurance cover the full value of your e-bike? What about if you are injured or injure someone else while riding? The type and amount of coverage depend on the policy, which, in turn, depends on the carrier. E-bikes are still considered something of an emerging type of coverage by the insurance industry, so a lot of variability exists among carriers.
Here's a brief survey of coverages currently available. Your insurance agent can help you wade through all the options and select the best coverage for your situation.
Adding on to your auto policy. Some companies offer the option to add your e-bike (as a vehicle) to your auto policy for an additional premium.
Adding on to a motorcycle policy. Another option would be to add your bike to a motorcycle policy. However, certain carriers will only allow for a top speed of 25 mph, which would eliminate Class 3 e-bikes.
Personal property coverage under homeowner policy. Some carriers offer e-bike coverage as personal property under the homeowner policy. In this case, damage, loss or theft of your e-bike may apply toward the policy's deductible. Additionally, personal liability coverage may — or may not — extend to injury caused to another person while riding the e-bike. Individual policies vary.
Scheduled endorsement on homeowner policy. Other insurance companies offer the option to "schedule" (itemize for additional coverage) the e-bike on the homeowner policy. In this case, the deductible would not apply, should the bike be damaged, lost or stolen. However, there could be a property limit (one policy limits it to $3,000) that is significantly lower than the value of your bike.
Watch your class of e-bike. Some carriers will only offer coverage for Class 1 and Class 3 e-bikes (pedal-assist only). Class 2 bikes, which feature a throttle, may not covered.
Confused yet? Don't worry, help is available. Contact your Bradish agent, who can do the homework and help you find the insurance coverage you need for your e-bike. Stay safe out there!
by Kris A. Mainellis