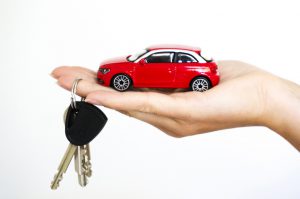 The concept of car-rental reimbursement coverage can be confusing. You may wonder, "Does it refer to any situation in which I may need to rent a car, like on vacation? Is it only for backup transportation in case of an accident? When and why would I want or need it?"
Actually, car-rental reimbursement coverage serves a very important purpose. It's there to help you pay for a rental car when you have a "covered loss" and your car needs to be repaired. A covered loss would be any sudden and accidental damage to your car (e.g., a car crash or hail damage).
What Will You Do If…
You might not ever think about car-rental reimbursement coverage. That is, until you are in an accident and you don't have a ride to work tomorrow because your car has been towed to the shop. And then maybe you find out that you won't have a ride for the next three weeks. Various scenarios may run through your head, like finding a bus or train route that will get you where you need to go, hitching a ride from the neighbor or calling in some favors from friends. But chances are, you will end up renting a car. If you don't have car-rental reimbursement coverage on your auto insurance policy, you will be taking on the entire cost yourself.
This may be a worst-case scenario, but it all depends on your policy. Although many basic policy forms provide for $20 per day rental coverage for one month following a covered auto claim, insurance companies are not required by law to match this standardized wording in the policy form. Some companies choose not to provide any rental-reimbursement coverage at all, unless it is specified explicitly in the policy.
However, a number of insurance companies do include an automatic $20 per day rental-reimbursement coverage in their auto policies. Additionally, many people choose to buy more coverage, as $20 per day may not be enough to offset the cost of a vehicle large enough to meet a family's needs. When you take taxes and fees into consideration, as well as the likely need to rent a vehicle larger than a roller skate, daily rental charges can really add up.
This Is Going to Cost How Much?
Still, you may ask, "Do I really need to have it?" Most people don't realize how expensive the car-rental part of an auto claim can add up to be. Cars can be "in the shop" for up to four weeks if they need extensive body work or if a part is not immediately available, for example. Occasionally we see rental coverage needed for even longer than the 30 days provided on the policy. If you multiply that out, even a covered auto loss could cost you hundreds or thousands of dollars.
The next question is, "How much coverage should I get?" As mentioned above, many companies provide an automatic $20 per day. Many of the country's largest insurance companies (you can probably picture their TV commercials) rarely provide more than $25 per day. This is usually not sufficient for most people. If you don't have a backup plan (an extra car), you may want to have at least $40 per day in rental-reimbursement coverage.
On the other hand, you may be one of the fortunate few who know they probably will not need a rental car in the event of an accident. If so, then sticking to the $20 per day is probably fine. At least something is there if you need it. For example, some households have two drivers and three cars, so they wouldn't necessarily need to have a rental car. They could just drive the spare. Other households might have someone who works from home, so car sharing is possible. Or you might live in the city, where public transportation is a possibility.
Another, rarer, option to look into is getting a policy that does not cap rental coverage by a daily limit. This type of policy provides a set amount of money that can be used, however needed, until it is gone. You won't find these policies being offered by the usual big national companies, but rather by smaller, regional insurance companies.
It's smart to become aware of what is included in your auto policy and make any necessary changes. By doing the homework now, you may avoid having to pay a lot of extra money to get by without your car in the event of an accident. It's time to check your policy.
by Jordan Bradish