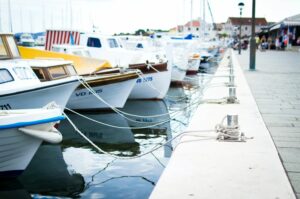 Illinois has many lakes and waterways beckoning people to come out and enjoy. Whether you take your boat out once a year or you practically live on the water, here's something you may never consider: boat insurance. "Wait a minute," you may be thinking, "do I really need insurance for my boat or Jet Skis?" The answer is yes, if you want to protect your boating property and financial assets.
There are several reasons to get insurance coverage for your boat and watercraft. For starters, while most states do not require boat insurance, many ports and marinas do. It's essential to check with your marina and investigate local laws and regulations to make sure you are in compliance, to avoid fines and penalties. Additionally, if you financed the purchase of your boat, your bank may require you to have a policy until the loan is paid off.
Aside from any legal or regulatory requirements, having boat and watercraft insurance coverage is just smart. Why? Because it can provide financial protection, liability coverage, and peace of mind. Even if insurance is not required, it still makes sense to have bodily injury and property damage liability insurance, at a bare minimum. Without insurance coverage, if an accident, damage, or injury happens, you are responsible for paying for everything out of pocket, putting your personal assets at risk.
The average cost of a boat-related insurance claim is $11,000, according to Hanover Insurance. Can you afford to pay for expensive property damage costs if your boat should collide with another boat or damage someone else's dock or other property? What about the medical bills if someone is injured in a collision or other mishap with your watercraft?
Three reasons to get boat and watercraft insurance coverage
Financial Protection: Insurance helps safeguard your investment in the boat and its associated equipment. If your vessel is damaged, stolen or destroyed, your insurance policy can provide financial support for repairs or replacement.
Liability Coverage: Accidents can happen, and if you're found liable for injuries to others or damage to their property, the liability coverage included in boat and watercraft insurance can help protect you from potential lawsuits and the associated costs.
Peace of Mind: Knowing that you have insurance coverage for your boat and watercraft can provide peace of mind. You can enjoy your time on the water with greater confidence, knowing that you're protected against unexpected events.
How much will it cost?
The cost for insurance varies and is based on whether you are insuring a boat, a yacht, or personal watercraft such as Jet Skis, WaveJammers and WaveRunners. Other factors include a boat's size and age. Start by taking a look at your homeowner policy. You may have some coverage there for your boat. However, your policy may have size restrictions or damage limits.
A separate boat policy can provide the additional liability coverage you may need, as well as broader coverage and higher limits for watercraft liability. Boat insurance is specifically designed to protect your boat almost anywhere, whether you are hauling it to the lake, taking it out on the water, or putting it into storage. Learn more about what boat insurance can cover.
The average cost of boat insurance is 1.5% of the boat's value, according to Hanover Insurance. Liability insurance for personal watercraft can be less than a hundred dollars per year (for one Jet Ski). It's important to review the terms and conditions of boat and watercraft insurance policies carefully, as coverage varies among insurance providers. Call your Bradish agent for help determining the specific coverage options that best suit your needs and vessel type.
Whether you love sailing, motorboating, pontoon-boat cruising, fishing, or just Jet-Skiing around on the waves, there's something special about being out on the water. Having the right insurance coverage in place will only add to the relaxing vibe of your on-water experience.
by Kris A. Mainellis