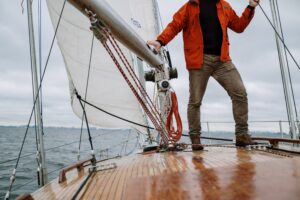 If you own a boat or other type of watercraft, you know the joys of being out on the water. When the weather warms up it's time to hit the waves. You've gathered your family and friends. You've packed lunches and drinking water. You've got the life jackets for all, as well as sunglasses, a first-aid kit and other safety gear. But do you have the right boat insurance plan in place? If you don't, or don't know what's in your current policy, keep reading to learn your options. A good insurance plan is an important part of protecting your family.
There are several reasons to get boat insurance. (Learn more here.) Operating boats and other watercraft can present a number of safety risks. We can do our best to stay safe, but accidents happen, and we can't control the actions of others out on the water. Additionally, big storms can cause an awful lot of damage and expense. Insurance coverage can protect your family and your pocketbook in the event of a storm event, an accident, theft, loss or other mishap with your boat. Here's a quick rundown on the types of insurance coverage available.
Coverage options
Boat insurance provides coverage for various risks and liabilities associated with owning and operating boats, yachts, personal watercraft (which may include Jet Skis, WaveJammers and WaveRunners), and other types of water vessels. The specific coverage and policies can vary, depending on the insurance provider and the type of vessel being insured.
Policies typically cover boats ranging from $3,000 to $500,000 in value, including boats up to 43 feet long and sailboats up to 51 feet long. Additionally, coverage usually applies to accidents or losses on lakes, inland waters, and up to 50-100 miles off the coast of the United States.
Here are some common types of boat insurance coverage:
Physical Damage: This coverage helps protect your boat or watercraft against damage caused by accidents, such as collisions with other boats or objects, fires, storms, theft or vandalism. It can include repairs or replacement costs for the damaged vessel.
Bodily Injury: If you or your passengers are injured in a boating accident, this coverage can help pay for medical expenses, hospital bills and other related costs.
Property Damage: In addition to bodily injury, boat insurance can cover damage caused to other people's property, such as another boat, a dock, or a buoy, due to a collision or other covered incidents.
Liability: Liability insurance is essential to protect you in case you cause injury to others or damage to their property while operating your boat. It can cover medical expenses, legal costs and settlements or judgments if you're found liable for the damages.
Uninsured/Underinsured Watercraft: This coverage provides protection in case you're involved in an accident with another boat or watercraft that doesn't have insurance or has inadequate coverage. It helps cover your expenses if the other party is unable to pay for the damages.
Personal Effects: This coverage extends protection to personal belongings on your boat, such as fishing equipment, coolers, water-sports gear and electronics. It can help replace or repair these items if they are stolen, damaged or lost.
Towing and Assistance: Many boat insurance policies include coverage for emergency towing and assistance. If your boat breaks down or you require assistance while on the water, this coverage can help cover the costs of towing, fuel delivery or on-water repairs.
What do I really need?
Now you may be wondering which of these options you really need. It depends on a variety of factors. Your homeowner policy may provide some coverage, but it may not be enough. The size, age and value of your boat or watercraft will also be factors in how much coverage you may want.
You may want more comprehensive coverage if your boat is newer and has top-of-the-line features. Liability is a very important consideration as well, and this type of coverage can be mandatory in some circumstances. How will you pay for injuries or damage to other people's property in the event of an accident?
Call your Bradish agent for help deciding which types and amounts of coverage you need. Being on the water is a joy. It's worth it to take the extra step of protecting your family and assets with the right boat insurance plan. Stay safe out there!
by Kris A. Mainellis