A BRADISH CASE STUDY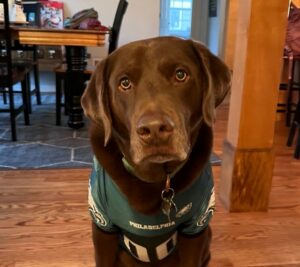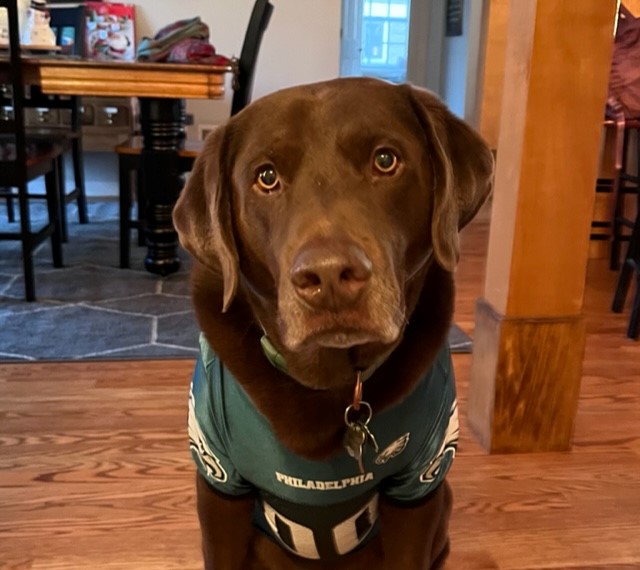 Pet ownership has increased significantly over the past 30 years. So too, has the cost of care at the veterinarian's office. As a result, more people are deciding to get pet insurance. In this Bradish Case Study, we take a look at Bradish employee Ryan Delp's experience with pet insurance for his family's dog.
Why pet insurance?
Pets are living longer, and new veterinary technology, treatments and medications are constantly under development, giving options and incentives for people to invest in the health of their beloved furry family members. In fact, increasing veterinary-care expenses are why today's pet owners are more likely to purchase pet insurance. (Read this article to learn more.) Pet insurance can help cover both routine and emergency costs at the vet's office. That's what the Delp family had in mind when they decided to get pet insurance for their dog, Rubin (pronounced like the sandwich).
Insuring Rubin the dog
Ryan Delp, senior producer and sales manager at Bradish, said his family began to consider getting pet insurance shortly after Rubin came into their lives. "We decided to get pet insurance for Rubin after hearing many people talk about spending substantial amounts of money on procedures for their pets."
Pet insurance policies can include both accident and illness coverage (which means accident benefits plus illnesses such as cancer, infections and digestive problems); accident only (such as ingesting foreign bodies, lacerations, motor vehicle accidents, ligament tears, and poisoning); comprehensive coverage (which also often includes vaccinations, early screening diagnostics, consultations for proper nutrition, and dental care); and specific add-on endorsements — riders such as wellness or cancer endorsements.
Rubin's policy
The insurance carrier the Delp family chose offers an accident and illness plan with three annual limits from which to choose. It also offers a wellness plan (basically turning the policy into a comprehensive plan), and other add-on options for even more coverage. The Delps' carrier "easily allows you to customize your coverage limits, percentage of reimbursement, and deductible amounts to help you determine how much you want to spend each month on the insurance premiums," Ryan explained.
Soon after getting the insurance coverage, the Delps needed to make a claim. One day the family discovered Rubin had a cyst on his neck, perhaps a spider bite. They took Rubin to the vet for treatment and then submitted the claim for reimbursement.
Ryan was pleased by the claim process. "It was tremendously smooth. It was all done through the app. You start by basically 'chatting' with their system and giving details of the claim. You attach pictures of the vet's invoice. They review it and then deposit money into your bank account within a day or two. I wish every claims process were that simple."
Is pet insurance worth it?
So far having pet insurance for Rubin feels like the right choice for the Delps. However, Ryan wanted to pass along a few pieces of advice. For starters, it's best to get pet insurance while your pet is young and healthy, because the premiums will go up as your pet ages. Also, pre-existing conditions typically are not covered, so you will want to make sure your pet is covered before new and unexpected health conditions are diagnosed.
Additionally, pet insurers have waiting periods for certain congenital conditions, such as hip dysplasia. For example, in Rubin's case, because he is a Labrador Retriever and that breed is known to have issues with the hips, there was a six-month waiting period before the policy would cover anything related to Rubin's hips. Rubin's hips are doing fine, by the way, and he just turned seven years old.
Overall, the Delp family is glad they have pet insurance. "We feel much more confident that Rubin's health and care needs will be met. We know people who have had to pay thousands of dollars, several times, for their dog's emergency or medical care over the course of the dog's life. This policy provides reassurance that we will be able to provide Rubin with the care and support he needs, no matter what," Ryan said.
Given the high cost of veterinary care over a pet's lifetime, more people are gaining peace of mind knowing they have insurance to defray these expenses. As you consider the importance (and expense) of the furry family members in your life, you might be considering pet insurance. Contact your Bradish agent for help finding a pet insurance policy that works for your family.
by Kris A. Mainellis