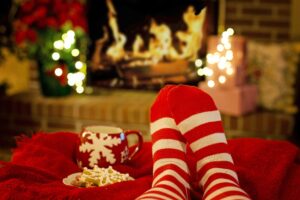 With the cold winter weather upon us, spending time indoors grows ever more appealing. Our nesting instincts kick in and many of us get the urge to seek warmth and comfort at home. Whether that means striking a blaze in the fireplace, cooking up soothing comfort foods, or basking in the romantic glow of candlelight, taking a few practical steps can keep everyone safe. Here's how to make winter fire safety at home a priority as you settle in for the cold and snowy months of the year.
Winter is peak season for home fires
While kitchen cooking fires are the number one cause of home fires over the course of the year, according to the National Fire Protection Association, wintertime adds its own set of increased risks. Heating, holiday decorations and candles contribute significantly to fire risk during December, January and February, making winter the peak season for home fires.
Cooking. Half (49%) of all fires in the home begin in the kitchen. Read this article for three common-sense tips to avoid kitchen cooking fires.
Heating. As winter sets in, heating becomes a major source of home fires. In fact, portable heaters are the second-leading cause of home fires and home-fire injuries, and the third leading cause of home-fire deaths, according to the NFPA. Make your home safer by following these practical steps:
Keep anything that can burn at least three feet away from any heat source, such as wood stoves, radiators, space heaters and fireplaces.
Never leave a space heater unattended. Turn it off when leaving the room or when sleeping. Bundle up in more clothes or warm blankets instead.
Install (and routinely test) carbon monoxide and smoke detectors on every floor of your home.
Get your chimney cleaned and inspected every year.
Holiday decorations and candles. Half of fires involving decorations in December originate with candles. Sadly, Christmas Day sees the most candle fires. Keep candles at least 12 inches away from anything that can burn, including Christmas trees. Consider using flameless, battery-operated candles. (Read more tips to avoid candle fires.)
If you have a live Christmas tree, be sure to water it every day. Dispose of the tree right after Christmas. Dried-out trees can go up in flames like a torch. Keep your live tree away from any heat source, including heating vents, which can quickly dry out a tree. For both real and artificial Christmas trees, ensure you are not connecting more than the manufacturer-recommended number of light strings. Don't use light strings or cords that are frayed. Learn more here.
Finally, be sure to have a plan to escape in case of a home fire. Practice it at least twice per year with your entire family. Winter fire safety at home starts with being aware of the dangers and taking steps to reduce fire risks. Stay safe as you enjoy family time in your warm and cozy home.
Kris A. Mainellis