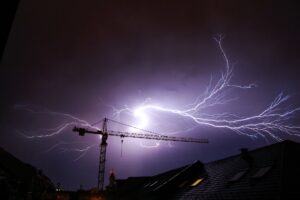 Severe storms. Extreme temperatures. Power-grid interruptions. No, this is not a promo for the latest end-of-the-world movie. This is a reminder to be prepared for a power outage. A backup power generator could mean the difference between safely riding out a storm or facing serious safety and health challenges in your home or business. Keeping a generator at the ready can also help avoid unnecessary cleanup and repair expenses — and insurance claims. Power outages happen. Are you prepared?
So many ways things can go wrong
The electrical power at your home or business can go out for a dozen different reasons — whether it's severe weather or a natural disaster, or even if a nearby construction project goes awry and a worker accidentally cuts a power line to your neighborhood. That can mean many hours without electricity, potentially resulting in spoiled food after the fridge goes out; or in winter, a pipe freezing and then bursting, causing calamitous water damage (Read this Bradish Case Study!) and a subsequent mold infestation; or dangerously unlivable indoor temperatures (too hot or too cold); or the life-threatening failure of needed medical equipment; and the list goes on and on.
In 2020 (latest data available), the average household or business across the United States experienced eight hours of electric power interruptions, according to the U.S. Energy Information Administration. The average outage hovered around two hours. But as we all know, extended outages can, and do occur. A generator offers solid reassurance that your home or business will be functional, regardless of the source of the power outage.
Two types of generators: Portable and standby
Which kind of generator should you get? There are two types — portable and standby (also known as permanent).
The case for a portable generator
If you typically experience short-lived power outages every once in a while, and only really need to use certain appliances (like the refrigerator) during an outage, you may want to consider getting a portable generator.
A portable generator is an affordable option ($500-$1,500) but it does require some know-how to operate and must be monitored during use. Keep in mind you will need to keep fuel (gasoline) on hand and you must actually be present (not away on vacation) to be ready to fire it up in an emergency.
One major downside of portable generators is that they can be dangerous, even deadly, if not operated properly. For starters, they must be operated outdoors in a well-ventilated area, at least 15 to 20 feet from all doors, windows and vent openings. Exhaust fumes from gasoline-powered generators are deadly. Never run a generator in an attached garage, even with the door open. Take care to use the proper type of extension cords when plugging in appliances. Store the gasoline safely (not in living spaces). Make sure you have working carbon monoxide detectors in your home. Learn more about these important safety recommendations from the National Fire Protection Association.
The case for a standby generator
If you experience regular outages or are frequently away; if you rely on powered medical equipment that must keep running; or if you want to be able to use all (or most) appliances in your home during an outage, a standby generator may be your choice.
Standby generators are permanent. Installed outside your home by a professional, they run on a natural gas or liquid propane fuel supply. A standby generator offers supreme peace of mind. It kicks on automatically if the power goes out. You can go away on vacation without worrying that a power-loss-caused disaster may await your return. It can power your entire house for an extended period. There is no need to refill the fuel and it is safer and quieter than a portable generator.
The price tag is much higher for standby generators (averaging $10,000). Also, they require periodic scheduled maintenance. However, when it's time to sell your home, a permanent generator can recoup up to 50% of its initial cost. These generators also last a long time — up to 15 years. Additionally, some insurance companies offer a discount on homeowner insurance to those who have a standby generator.
No matter which type you choose, getting a generator may help prevent disastrous damage, health risks and other dangers in the event of a power outage. A generator can also help you skip the expense and stress of cleaning up a big mess and allow you to avoid unnecessary insurance claims. Contact your Bradish agent to ensure you have the best coverage, at the most reasonable price, in your homeowner or business policy.
by Kris A. Mainellis