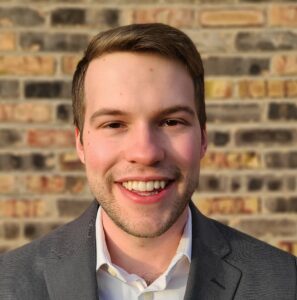 Nate Belch likes to see people succeed. More than that, he likes to help them succeed. That's why he believes his work at Bradish is a great fit. In early 2022, Nate was looking for "a position that helps people save money, helps people navigate something confusing, and even helps them better themselves." Working at Bradish checks all the boxes, enabling him to use his gifts and experience to help people. It's been an exciting journey so far, and he is just getting started.
Nate joined Bradish in April 2022, taking on a position centered on health-account management and customer relationships. Early on, his role began to evolve, making efficient use of his growing knowledge base and talent for clear communication.
In his current role as assistant benefits sales manager, Nate helps employers and individuals obtain health insurance and other related insurance coverage (e.g., dental, vision and life). He also aids employers in navigating group insurance renewals, suggests new ideas for their benefits, and assists in setting up additional benefits employers may want to offer, such as a health reimbursement arrangement (HRA), health savings account (HSA) or flexible spending account (FSA). And his role is still evolving.
Next step: Health insurance producer
The past nine-plus months have been a time of intense learning and growth for Nate. Although he still has a hand in customer relationships and service, as of January 2023, his work began to move toward becoming a full-time producer.
Nate has begun this transition by now focusing on new group health insurance accounts. "My goal is to help new businesses offer health insurance for the first time and to help businesses that are either overpaying, struggling to manage their benefits, or just need a vision for the future offerings of their company."
Nate is excited to help companies grow. One of the best ways to do that is through the benefits package, he notes. "I think the benefits suite in any business is of utmost importance. Great benefits attract great talent, and great talent helps further the company." Looking back on his personal experience, he is quick to mention that he turned down a job before Bradish because they offered no benefits. He specifically did not want to experience the same sort of uncertainty he had felt in a previous position that did not provide health benefits: "There is always a sense that something could go wrong at any moment. I never want employees to feel that way."
Looking forward
Nate is "ecstatic" about the future, and here's why: "Nothing feels better than the ability to help people and businesses in the confusing world of insurance. Sometimes it doesn't feel real that I get to help people and somehow make a living doing that." It's also fulfilling to Nate to be able to use his degree in communications daily in his job. He points out that the ability to effectively communicate and understand how others communicate is crucial when talking about insurance.
Nate also draws from the practical work experience he earned in a four-year stint at Starbucks as a supervisor and manager. "I like to think this experience helped me understand the headaches business owners go through and how insurance, most of the time, is the last thing on their minds. It also helped me understand what clients value most: honesty, integrity and having the client's best interests in mind. Oh, and a good cup of coffee."
Along his journey at Bradish, Nate has become licensed in property, casualty, health, and life insurance. He also plans to become a certified insurance counselor (CIC) within the next few years and then eventually earn the designation of certified risk manager (CRM).
Driven to make a difference
As someone who feels driven to make a difference in people's lives, Nate is "proud that I get to help people go to bed at night with peace, not staying awake worried that something may happen to their business, their personal life or their health and they won't be able to recover from the cost. I also want people to confidently walk into a doctor's office and know they can get great care at an affordable cost."
These things are an integral part of living one's best life, as Nate realizes in his own life and relationships. Regarding his work at Bradish, he says: "I love working for a company that fully stands behind its mission and morals. Bradish is full of humble, honest and experienced insurance agents. We hold each other accountable because we all hold the same goal and are responsible for achieving it. We have the same determination and commitment in the smallest insurance account as we do in the largest insurance account."
For Nate, it all comes back to helping people. "Hands down, helping people is the most fulfilling part of my job. Assisting people to navigate the complicated world of insurance, protecting their assets, and helping them sleep peacefully at night always puts a smile on my face."
Motivators
Nate feels "blessed beyond belief" to be married to his wife, Amber, who teaches third grade. The two married in June 2020, in a "last-minute" outdoor wedding at Peck Farm in Geneva, Ill., with only 10 people in attendance because of the pandemic. A year later, the couple celebrated their full wedding ceremony in the library of Illinois Wesleyan University, Bloomington, Ill. They plan to move into their first home soon and are looking forward to starting a family someday.
As a self-professed nerd, Nate loves to build and work on computers — and then to play video games with friends on those computers as well as edit miscellaneous video projects. Other hobbies include playing guitar and advancing in indoor rock-climbing skills along with Amber. Above all, Nate seeks to live according to his faith. Citing Matthew 16:25, he says, "everything I do, I want it to reflect Christ — to uphold honesty, integrity and generosity, and to treat others as if I were them." Great motivation to live a life helping people.
by Kris A. Mainellis