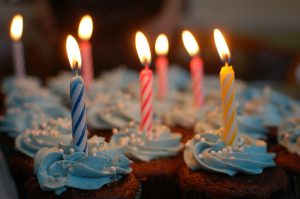 Article updated February 4, 2022.
Congratulations are in order if you will turn 65 this year! We hope you are planning to celebrate! Turning 65 also means most likely you are eligible to enroll in Medicare.
When Bill Bradish, our agency's founder, turned 65, he received a pile of mail acknowledging his birthday and offering some sort of "opportunity." All these mailings and offers were enough to fill a grocery bag.
Important choices
As Bill attests, "It can be a little overwhelming for people and difficult to know what is truly important and helpful," as you reach this milestone. You will want to be prepared to make the best choices within the optimum time frame, to be sure you will have the right health coverage once the big day comes to pass. However, it's important to start early.
From an insurance standpoint, as your 65th birthday approaches, there are several things you should be prepared to do. If you need help learning more about the following options, we will be happy to walk you through it. Just give us a call.
Steps to enrollment
Medicare enrollment begins three months before your 65th birthday, includes your birthday month, and ends three months after you turn 65. Your local social security office can help you sign up. Find your local social security office online or call 800-772-1213.
Medicare includes four main parts:
Part A — Covers hospital stays.
Part B — Covers physician fees. If you are still working and have a group health plan, or have a union group health plan, you may not need to sign up for Part B right away. Read the fine print on this, though, to make sure you meet all the criteria.
Part D — Drug plan. Medicare prescription drug coverage is an optional benefit offered to everyone who has Medicare. We at Bradish can help you find the drug plan that is best for the prescription drugs you may be taking.
Medicare Supplemental Insurance. Sometimes called Medigap, this type of policy helps to bridge the gap between Medicare payments and hospital bills. Bradish Associates can help you get signed up for this insurance. We represent several companies and would be happy to discuss the options that would best fit your needs. A different option is Medicare Advantage Plan (previously known as Part C). Contact us to learn about how these two options differ.
Again, congratulations! It's an exciting time, but also possibly a confusing time. You can learn more about how to enroll in Medicare online, or let us know if we can help. All of us at Bradish wish you a very happy birthday and a year filled with joy!
by Kris A. Mainellis