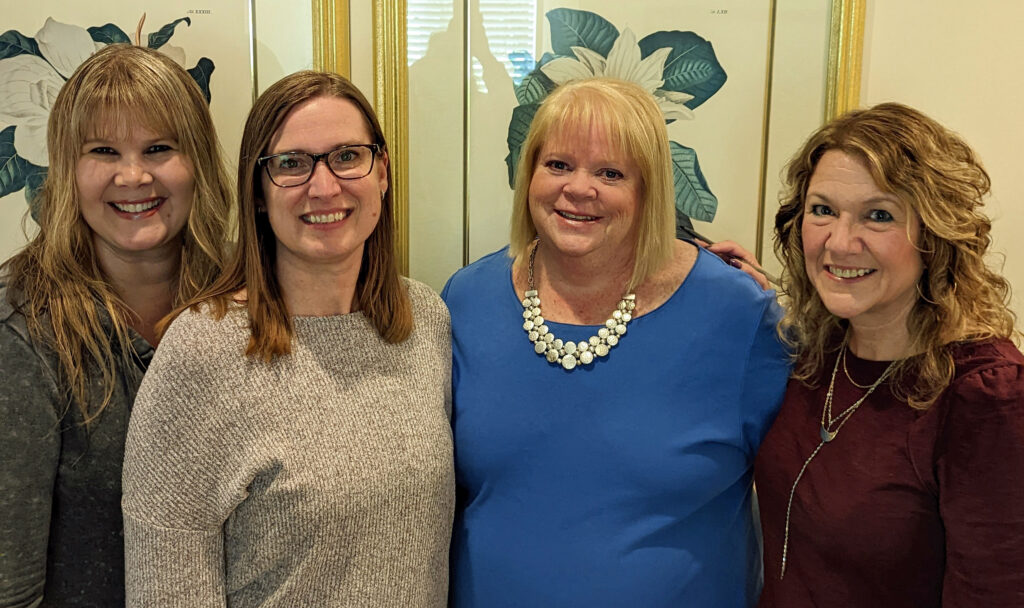 The Personal Lines Team at Bradish is just that — a team. Like any successful team, its members — Kathy Collins, Cobin Sonnenberg, Chris Amato, and Michelle Chase — value each other and appreciate every person's unique contributions. They help one another, build each other up, and work together to meet shared goals. Together, they place customer service and satisfaction as their top priorities. And that's why they are successful.
Focusing on details, responsiveness, and best value
Attention to detail, responsiveness, and helping customers get the most for their money are shared values on the Personal Lines Team. Kathy Collins, personal insurance producer and account manager, has been with Bradish since 1996, and has worked in the insurance industry for more than 40 years. She is a licensed agent in property and casualty, life, and health insurance. Kathy pays attention to details and treats customers as the unique people they are. "All my customers have different and varying insurance needs," she explains. "I tailor-fit my clients to be sure they are covered properly with the best product at a competitive price."
Cobin Sonnenberg has been with Bradish since 2014. As a personal insurance account manager, she provides important assistance to customers and her teammates. Like all her teammates, she aims to respond quickly, delivering accurate information for customers and co-workers.
Chris Amato has been in the insurance industry for more than 30 years and has been with Bradish since 2017. As a personal insurance account manager, Chris helps clients with whatever questions they have. She works on claims, facilitates quotes and answers questions on coverages. "We are very personable with our clients and make sure they have proper coverages and try to save them money on premiums."
Michelle Chase is a licensed insurance agent who handles personal, commercial, life and health insurance coverage. She has been with Bradish since 2020 and has worked in the insurance industry for more than 30 years. As a personal insurance producer, her objectives match the team's overall goals of customer service and satisfaction. She works hard to "educate customers and make sure they are properly insured and getting a competitive price."
Delivering the best customer — and employee — experience
With its laser-focused attention on customer needs, the Personal Lines Team naturally delivers a great customer experience. "We take the time to get to know our clients and establish a personal, as well as a professional, relationship with them," says Kathy. "It takes teamwork and collaboration to succeed in business of any kind. 'The whole is better than the sum of its parts' is how we approach our work."
Likewise, the team members appreciate getting to know each other and working together as a cohesive unit. They strive to actively assist and encourage each other and all their Bradish co-workers. Chris elaborates: "Our department works as a team and we help bounce ideas off of each other and get each other's opinions and help when needed." Kathy enjoys "being part of a professional team that puts the customer first. I especially love that we're one big insurance family." It's that feeling of family at Bradish that Michelle Chase also finds particularly appealing.
What the team loves about working at Bradish
The Personal Lines Team members point out that what makes Bradish stand out as an insurance agency is its true customer focus and the teamwork among its employees and across teams. "I think Bradish goes over and beyond the call of duty. We really care about our clients and try to do best by them," says Chris.
It's not only that, Michelle says. She appreciates the agency's involvement in the wider community. Whether it's hosting its annual free shredding event, participating in community events, or working to help local businesses and families with their insurance needs, "Bradish is there for the community."
Finally, "it's the professionalism, integrity and knowledge," that make Bradish a good place to work, says Kathy. "Core values that include treating our clients with the highest respect. We take the time to make sure our clients understand their coverage and know they can pick up the phone and we're always here to help them."
by Kris A. Mainellis