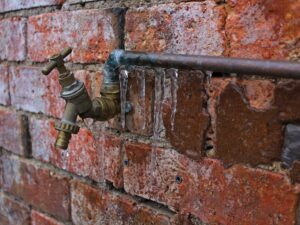 There are all kinds of reasons for water leaks and damage in commercial buildings. Causes range from faulty pipes to weather-related floods to water-backup problems and many other plumbing and water-system issues. The plunging temperatures of winter are a particularly big culprit. In fact, the leading cause of damage to commercial property in the winter is frozen pipes that burst, according to the Insurance Institute for Business and Home Safety.
If ever there was a reason — and a reminder — to conduct routine maintenance and be vigilant for frozen pipes and water leaks, it's the arrival of winter. Allowing pipes to freeze is essentially an invitation for a water calamity. Preventive maintenance, regular inspections and active monitoring are especially important if your building routinely closes for extended periods, such as on weekends or holidays, or if the building should have to shut down for unexpected reasons, including work stoppages or strikes, or severe weather.
Plunging temperatures, rising claim costs
As temperatures plunge, pipes can freeze and burst, causing thousands of dollars of water damage in addition to lost work time, project delays, and other holdups as cleanup and repairs need to be made and insurance claims filed and resolved. Across the United States, the cost of water damage and removal — for both businesses and homeowners combined — adds up to more than $13 billion each year.
As for businesses, the average cost to remediate water damage totals nearly $24,000, according to Thomas Varney from Allianz Global Corporate & Specialty (AGCS), in a recent article at propertycasualty360.com. Further, Varney said that in 2020 alone, approximately 2,700 claims involving water damage were filed across North America. What was the source for most of these claims? Bursting or leaking water pipes, with the largest individual claim coming in at nearly $5 million.
How to prevent frozen pipes and water leaks
Experts recommend several basic, but critical strategies to prevent pipes from freezing and bursting, leaking water into your building. The three most obvious steps are to (1) properly insulate all pipes; (2) drain all water pipes not in use over winter months; and (3) keep internal building spaces at a minimum of 40 degrees Fahrenheit (some experts recommend no lower than 55 degrees). Read this article for a more detailed list, from Travelers.
Additionally, commit to a regular preventive maintenance schedule that includes routine inspection of all pipes, plumbing, pressurized drinking-water or fire-water systems, and any other water entry points and sources. Attention to basic infrastructure and systems will enable the discovery of unexpected or slowly brewing problems (e.g., aging or faulty pipes, drips, or condensation problems). Taking steps to correct problems will prevent them from turning into catastrophes (e.g., burst pipes, or slow or sudden leaks, resulting in damage, corrosion, mold growth and many other possible problems).
Third, implement an early detection system such as (1) a flow-monitoring sensor device with a remote valve shut-off feature (such as this example) and (2) smart leak sensors (here is one success story). Both devices send alerts via smartphone, tablet or computer, so leaks can be repaired while damage may still be easily containable and corrected before a much larger problem develops. Here are additional tips on how to protect your business from water damage, from Erie Insurance.
Finally, make sure you have adequate and appropriate commercial property insurance coverage. Talk to your Bradish agent to cover all your risks related to burst pipes, leaks, flooding, or any other sort of dangerous or expensive water catastrophe.
by Kris A. Mainellis