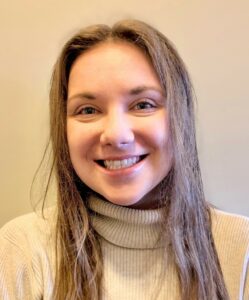 For Maddie Fernandes, it's all about "the little things." Whether she is serving clients, interacting with coworkers, or welcoming visitors with a smile, she seeks to infuse her work at Bradish with responsiveness and attention to detail.
In her role as small commercial lines account manager, Maddie works on her own accounts and assists the other commercial lines account managers. She issues certificates, handles billing, processes renewals and helps customers with questions. She also assists Bradish producers (agents) in creating proposals and price quotes.
"One thing that I really try to do as an employee and account manager is to serve well," Maddie says. "I like to be on top of things and get back to everyone as soon as I can. I feel that my responsiveness makes me more reliable and approachable."
Jumping in, learning and growing
Maddie joined Bradish as receptionist in February 2020. After a few months, she took on the title of office administrator and project manager. She also began pursuing career-development opportunities within the insurance industry. By the end of June 2021, she became a licensed agent in all forms of insurance. She was then invited to take on the role of small commercial lines account manager.
Excited to serve in this new way, Maddie continues to balance her new responsibilities with office manager duties. "I will always love to be the person that the office can come to."
Grateful for relationships and trust
Maddie is grateful to be part of the Bradish team. She had always wanted to put her gift for administration to work in an office setting. What she didn't anticipate was just how well her skills would suit her work at Bradish, in an insurance setting. "Insurance was brand new to me. I never imagined that I would move past clerical work here in the office, or if I even wanted to. But the Bradishes graciously took a chance and invested in me and my career. I am forever grateful and continue to learn something new every day."
Maddie's favorite part about working at Bradish has been the opportunity to develop personal relationships with her coworkers. As the youngest person in the office, "I love to see the experience and knowledge that each employee provides daily. It encourages me to see so many well-rounded and successful people in this industry. I love that every conversation I have, whether it be work-related or personal, allows me to learn and grow."
She appreciates the culture at Bradish, which she describes as valuing relationships, family, commitment, and service. "Bradish sets the example that you can be successful while still making time for a life outside of work."
Empowered and recognized
What Maddie finds most fulfilling in her job is being empowered — and recognized — for applying her strengths. "It is always an encouragement to know that you are valued. I love that each day is an opportunity to learn, and that it is not expected for any of us to know it all."
Maddie's number one goal is to provide a good experience for Bradish customers. And that is one reason she still enjoys sitting at the front desk, although her role has evolved. "I like to provide a warm, friendly, smile to each person who walks through the door. It's the little things that can really make someone's day."
Maddie has been married to James for more than two years and the couple are proud owners of Siesta the cat. They have family in Iowa, Tennessee and South Carolina whose love, support and example they appreciate every day. In her free time, Maddie enjoys working on photo albums, "to be able to look back on the sweet memories in life — hopefully one day with my own family." Her favorite Bible verse helps shape her daily perspective: "For what will it profit a person, if they gain the whole world, and lose their own soul?" (Mark 8:36)
by Kris A. Mainellis