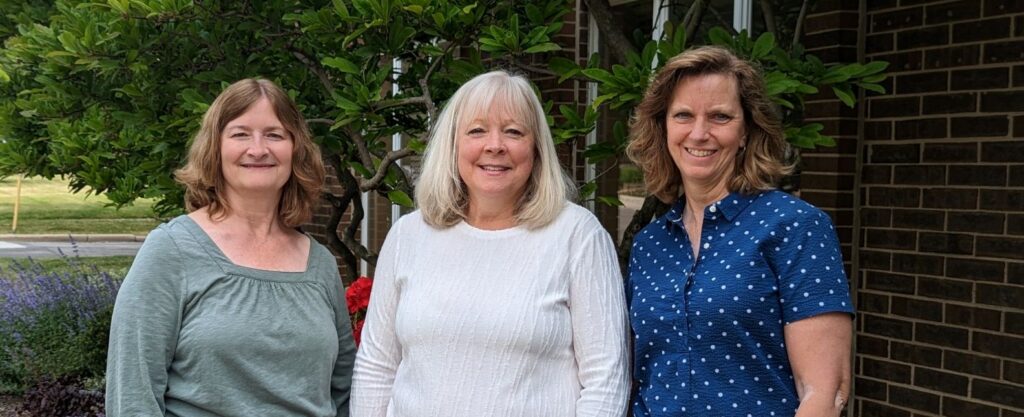 At Bradish, we are fortunate to have three colleagues named Cindy/i on our team: Cindy Goodmanson, Cindi Johnson and Cindy Angarola. The names Cindy and Cindi have ancient roots in several languages, including Greek and Latin. One particularly relevant linguistic connection stems from Latin, in which the root word Lucinda means "light." Working with Cindy G., Cindi J. and Cindy A., it's easy to see the unique ways they shine, using their gifts to help make the Bradish team stronger.
What are the odds?
What are the odds that out of the total U.S. population, and the total workforce, and the total number of women in the workforce, and considering all employers of fewer than 20 people, Bradish would have three employees named Cindy/i? We took a crack at the math, and after some complicated calculations based on a few wildly inaccurate assumptions, we came up with our technically imprecise, yet intuitively right-on answer: The odds are slim! Probably no other office in the United States (with fewer than 20 employees) has three people on staff with the name of Cindy/i. Regardless of the specificity of our calculations, there is no doubt we have beaten the odds and that each Cindy/i is a gem. You can tell they are special by the fun nicknames they have earned from their teammates (see below).
Each Cindy/i offers unique talents
Cindy Goodmanson — Cindy G. (aka: Classic Cindy or #1 Cindy) has been with Bradish the longest, joining the team in May 1999. In her current role, she serves as senior commercial insurance account manager. Cindy G. is a licensed producer (agent) for commercial businesses and is responsible for handling new and renewing commercial accounts, including submitting applications for insurance quotes, providing helpful customer service and guidance, and maintaining policies. Aiding customers is important to Cindy G., who adds, "I am happy when I have been able to help a client resolve a troubling insurance issue."
Cindy G. says it's easy to keep track of how long she has worked at Bradish because she started two months before getting married. She and her husband, Jeff, have been married for 24 years. Outside of work, Cindy G. enjoys sprucing up her yard, hiking, and spending time with her family.
Cindi Johnson — Cindi J. (aka: Cind-I) joined Bradish in May 2020 and serves in an accounting role, managing incoming and outgoing payments and expenses. She has worked in the field of accounting in several different industries for most of her career since college. She started with a home builder, then she worked for a software consulting group, and most recently she served at her church before coming to Bradish.
Cindi J. finds her work fulfilling and jokes that she was happy to be "able to learn the dialogue and workings" of yet another industry along her career path. She feels she is making a difference in people's lives as she strives to do her job well, with accuracy and attention to detail. Like the other Cindys, Cindi J. practices compassion, both in her interactions with fellow staff members and those outside the office, including clients and vendors. "Whenever I have the chance to engage with the accounting department at a vendor or company, I treat them with respect and kindness. This is the Bradish way."
Cindi J. is married to Steve, and the couple will celebrate their 34th wedding anniversary in September. They have two grown sons: Brad, engaged to Belle, and Tim, married to Libby. Cindi J. enjoys traveling and was excited to explore both Hawaii and Greece last year.
Cindy Angarola — Cindy A. (aka: Cindy A+) is the newest Cindy on the job, having joined the Bradish team in January 2023 as administrative assistant. Her responsibilities include answering the phone, greeting guests, connecting clients to their agents, and ensuring office supplies are maintained. Cindy A. recently became licensed in property and casualty insurance and is currently in training to also take on responsibilities in these areas.
For now, "I am still the newest team member, so I try to help in little ways that support the work of the established team members, primarily connecting them to their clients by phone and ensuring they have office support." Cindy A. enjoys her administrative work, even opening and distributing the mail. "The funny part is that it's a rite of passage for new staff, and yet I feel accomplished."
Cindy A. has a strong connection with her family and shares this fun family story: "I am the oldest of four daughters, and my family likes to joke that while growing up, our father was outnumbered — we even had a female dog! Nowadays, I am a proud aunt of nieces and even more nephews." In her free time, Cindy A. enjoys "riding bicycles and just getting together with family or friends for any activity."
Working separately, but together
Although each Cindy/i has a different role and the three have variable in-office work schedules, they enjoy helping each other and their other co-workers according to their talents and distinct areas of expertise. Additionally, they look forward to interacting at their monthly women's staff lunch and other social opportunities, such as the weekly Bible study in the office. There is genuine admiration among them as they reflect on their individual gifts:
Cindy G. points out Cindi J.'s "joyful personality" and that Cindy A. is "friendly and eager to help."
Cindi J. appreciates how Cindy G. "is a team player. She works hard at her job and always has a friendly smile and hello!" Cindi J. is also quick to highlight Cindy A.'s "calm and sweet" demeanor. "You can tell she cares and is listening."
Cindy A. notes her admiration for Cindy G.'s "many years of knowledge and expertise in commercial insurance. Our clients receive excellent service from her and know they are in capable hands." Also: "I enjoy Cindi J.'s congenial personality and appreciate her competency in accounting."
It's all about integrity, trust and respect
Each Cindy/i values the integrity of the their teammates, the trust placed in every person on the team, and the care and respect with which the Bradish team treats co-workers and customers. When asked what they each like best about working at Bradish, Cindy G. sums it up well: "The people are the heart of the business. It is family-oriented, and everyone cares for each other and their well-being." Cindi J. adds: "I appreciate the integrity of the leadership at Bradish. They make everyone feel important and like a trusted team player." Finally, Cindy A. comments that "the Bradish teammates are a friendly and capable group. Many clients remain with Bradish because they are confident the team will look out for their best interests in coverage and pricing."
Cindy A. says Bradish stands out as an agency because "knowing our clients by name is still a priority, the office is local, and the staff are truly nice people to work alongside." Additionally, Cindi J. appreciates the ways Bradish gives back to the community, such as supporting nonprofits and hosting and participating in events that "showcase community well-being." Cindy G., Cindi J. and Cindy A. contribute significantly to the expert, friendly, service-focused culture at Bradish. They each shine in their own special ways.
by Kris A. Mainellis