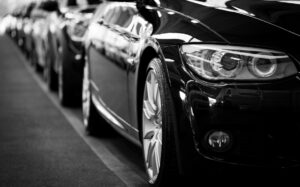 Your auto insurance rate has probably gone up. Or it's about to. Why, you ask? There are many reasons. While it's tempting to blame rate increases totally on inflation, the answer is much more nuanced. This article briefly explores why auto insurance rates are increasing and what you can do to minimize costs on your own policy while maintaining the protection you need.
What's to blame for rising auto insurance rates
As auto insurance rates continue a years-long upward trend, inflation is definitely piling on. For example, inflation has significantly impacted the cost of car parts and repairs, which ends up affecting insurance costs. However, there's a lot more at play here than inflation, according to data compiled from a variety of sources, including the National Highway Traffic Safety Administration (NHTSA), Federal Highway Administration, US Bureau of Labor Statistics, Governors Highway Safety Association, National Safety Council (NSC), and more. Most of these contributing factors fit into one of two categories: driver behaviors and auto industry changes.
Driver behaviors
Increasing motor vehicle traffic crashes. In spring 2022, NHTSA reported that 42,915 people died in motor vehicle traffic crashes in 2021, which was an increase of 10.5% over the fatalities recorded in 2020 (which totaled 38,824). The agency says it is the highest annual percentage increase in nearly 50 years of reporting these numbers.
More cars on the road. The same NHTSA publication cites preliminary data from the Federal Highway Administration showing that vehicle miles traveled increased by approximately 325 billion miles in 2021 (11.2%), compared with 2020. That's a lot of cars on the road, raising the risk for more crashes.
Ongoing distracted driving. An NSC analysis of NHTSA data found that 3,142 people died in "distraction-affected" crashes in 2020. This is an increase of about 1% from the 3,119 deaths in 2019. NHTSA also reported that 8% of fatal crashes in 2020 involved distracted drivers, including texting and social media use while driving. (See this GHSA report.)
Continued speeding. Speeding-related crashes rose by 5% in 2021, according to NHTSA.
BOTTOM LINE: More crashes mean more insurance claims, leading to increasing insurance rates across the country.
Auto industry changes
Semiconductor chip shortages and low vehicle inventory. COVID-19's effects on the economy resulted in reduced vehicle inventory for both new and used cars and trucks. The chip shortage continues to compound the problem by severely affecting new-vehicle production. The price of new cars rose by almost 12.2%, and the price of used cars rose by 40.5%, from January 2021 to January 2022, according to the US Bureau of Labor Statistics.
Rising auto repair and labor costs. As the price of cars rises (due to inflation and other factors), so do repair costs after a crash. Also, the longer people hold onto their older cars, the greater the demand for car repairs, the higher the prices. Supply-chain disruptions have only increased demand and aggravated the problem. To make matters worse, the auto industry has also been experiencing labor shortages (thus increasing prices), much like many other industries over the past couple of years.
More expensive technology. As manufacturers continue to add high tech to new cars and trucks, repair prices continue to rise. There is no such thing as a simple bumper repair anymore.
BOTTOM LINE: More costly car parts, vehicles, and technology means they are more expensive to replace and repair, which translates into higher auto insurance rates to cover these losses after a crash or breakdown.
Ways to lower your costs
While you can't control all the factors that impact auto insurance rates in general, there are several things you can do to save money on your policy. For starters, you might want to call your Bradish agent to discuss your vehicle insurance options. Find out if your carrier is offering any discounts. Is there a loyalty plan that offers perks such as second chances or deductible dividends? Look into payment plans if your insurance bill is getting to be difficult to pay in your current payment arrangement.
Increasing your deductible can be a good way to bring down the premium cost. Additionally, ask about bundling your home and auto insurance with one carrier. Very important: Maintain a good driving record by driving safely. Your carrier may also offer a rewards program for good driving. With your agent's help, you may very well be able to reduce your costs while maintaining the protection you really need.
by Kris A. Mainellis