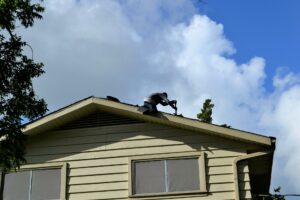 Severe-weather events such as tornadoes and strong storms are a major cause of costly wind, hail and fire damage to homes. Sometimes this damage can lead to an entire rebuild of the damaged home if it's deemed a total loss. Unfortunately, all too often in these cases, homeowners realize — after the fact — that their home is underinsured. In other words, they will face unexpected, and very expensive, out-of-pocket costs to rebuild their home after a disaster. Most people have some form of home, or dwelling, replacement-cost coverage in their homeowner policy. Your insurance agent can help to ensure you have the best type and amount of coverage for your home.
Get started by reviewing your homeowner insurance policy. What type of coverage do you currently have in place? Does your policy entirely cover the costs of rebuilding your home's outside structure and restore or replace its internal architectural design and materials? (Read this article about how to determine your home's reconstruction cost value.)
Look at the types of coverage
Basically, there are two overall types of coverage: actual cash value and replacement cost. Replacement cost is further subdivided into replacement cost, enhanced replacement cost (also called extended dwelling coverage), and guaranteed replacement cost. In the event of a disaster, replacement-cost options cover a higher level of reconstruction costs than insuring for actual cash value. Guaranteed replacement cost provides the best coverage.
Actual cash value. Actual cash value is basic coverage that sets a predetermined amount of coverage to rebuild your home after a "covered loss," such as damage caused by a tornado. Depreciation is factored into the amount of coverage you will have. For example, for your roof, replacement coverage will decrease as it ages. Most people do not choose this option, as you can end up paying many extra thousands of dollars in the event of a home disaster. Some insurance providers do not even offer this type of lower level of coverage for primary homes; only for secondary homes and their contents.
Replacement cost. Replacement cost is the estimated actual cost to replace an item or structure at the condition it was in before the damage or loss happened. This is different from both actual cash value and market value. This is the type of coverage contained in most standard homeowner policies. It covers costs to repair or rebuild your home and does not factor in depreciation, as is the case with actual cash value. In other words, replacement-cost coverage will pay for new versions of your items to replace the older items that were damaged or lost. As mentioned above, it's a good idea to periodically check your coverage amount, to make sure it will actually be high enough to cover your loss in a disaster. Some carriers now offer automatic annual inflationary coverage increases, to help cover increasing value in the home. Nevertheless, it's still a good idea to keep track of your coverage amount and adjust it as needed.
Extended replacement cost. This type of coverage provides an extra cushion, increasing your protection by 25% or even up to 50% over the total insured amount. Selecting this "extended dwelling coverage" has helped many people cover unexpected rebuilding costs that they did not initially consider when they decided on their coverage amount.
Guaranteed replacement cost. This option provides the most inclusive coverage. It guarantees to pay for the full cost of rebuilding your home after a total loss, enabling the homeowner to reconstruct the home at the same size and with the same features (materials, craftsmanship) present in the original home, according to Erie Insurance. Although this option may be the most expensive type of coverage, it offers true peace of mind because it provides guaranteed protection against rising reconstruction costs and the more expensive working conditions often faced when having to rebuild an existing home.
Choose the best coverage for your needs
Call your Bradish agent, who can help you understand all your choices. Your agent can help you decide whether to add to, or adjust, your coverage to effectively protect your home. Also, each year at policy-renewal time, Bradish insurance carriers automatically adjust for inflation and supply-chain issues, which is what causes an increase in premium. Once you fully understand your options, the decision is yours as to the level of insurance protection you would like to put into place. Your agent can be a trusted partner in helping you decide.
by Kris A. Mainellis