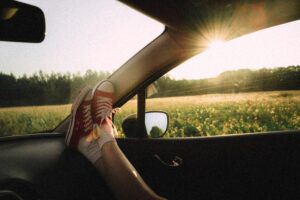 Late summer is a popular time for a road trip. Whether you are trying to squeeze in a vacation before the kids go back to school or simply love exploring the countryside during the warm weather, summer can be the perfect time to head out on the highway. Before you hop in the car, though, a little prep work and planning can ensure safe and happy summer travels.
Travel websites list tons of ideas for summer road trip destinations. Whatever your passion — crashing ocean waves, towering mountains, inspiring forests with babbling brooks, wide open prairies, or gracefully sloping hills and valleys — there is much beauty to behold across the United States.
Here are a few things to keep in mind before your trip.
Get your vehicle inspected and serviced
Is it time for an oil change? Take care of it before you go. Does your car need a tune-up? Make sure your vehicle is in good working order. Bradish customer "Scott," still remembers one road trip nightmare from his youth: The family car broke down in a rural Ohio, mid-vacation. The car needed a new part. Because it was a unique part from a foreign car, the mechanic did not have it in stock and had to order it from the manufacturer. It took a week to get the part. So much for their vacation!
The National Highway Traffic Safety Administration offers a vehicle safety checklist to help you make sure your car or truck is in proper road trip condition. It includes action items such as inspecting your tires, checking the oil, inspecting belts and hoses, fluid levels, and the cooling system, and making sure your headlights and other lights function as expected.
Make sure you know where you are going and how you can get there safely
Unless you intend to have a completely unstructured road trip with no time limitations, be sure to plan your route in advance. Here's one suggestion: Investigate scenic sites or fun activities along the way to your destination and consider how you might be able to incorporate one or more stops into your trip. Even if it's just hopping out of the car for a quick scenic overlook, taking in the beauty along the way makes road tripping so much more inspiring. (Not to mention providing a chance to stretch your legs!)
On the day of departure, be aware of road conditions, traffic and construction, and adjust your route accordingly (GPS apps can help with this). Know where you are going before you hit Start on your GPS. It goes without saying to always drive safely and defensively. Let passengers do the map reading, radio tuning, texting and photographing. Follow the speed limit, stay alert and take turns driving to alleviate fatigue. If traveling alone, take frequent breaks to rest and recharge.
Check your auto policy coverage
Do you have enough coverage for accidents and injuries? Do you have roadside assistance and towing coverage? Does your policy cover car rentals (in case your car breaks down), and if so, do you have enough to actually cover the cost of a rental? Call your agent if you have questions.
Consider travel insurance
Travel insurance is always a good idea, and it's even more prudent now, as regions across the country continue to face weather variables and public health uncertainties. Climate and weather-related problems and natural disasters can strike without warning. One example is the current historic drought and raging wildfires affecting several western states.
Travel insurance covers illnesses and accidents and other trip disruptors. It even covers emergency medical evacuations. It can provide reimbursement for nonrefundable lodging reservations and other scheduled, paid-up-front activities, such as tickets to amusement parks and other attractions.
With COVID-19 uncertainties still prevalent across many states, make sure the policy includes coverage for COVID-19-related medical expenses and trip interruptions or cancellations. Read the fine print. Alternatively, consider purchasing a "cancel-for-any-reason" policy. Consult your Bradish agent for help finding a policy that works for you.
A summer road trip is a wonderful way to bond with family and friends. It offers a grand opportunity to create exciting adventures and witness awe-inspiring vistas. With advance planning and common-sense precautions, your road trip is sure to be an amazing experience, cherished for years to come. Best wishes for safe and happy summer travels!
by Kris A. Mainellis